Made to Measure Sliding Wardrobe Door FAQs
Will my sliding wardrobe doors come with tracks?
Yes, every order will be supplied with a top & bottom track set that matches the frame of your chosen sliding doors. All track sets are premium smooth gliding, frictionless designs for ultra-quiet rolling.
Track sets are supplied slightly longer than your opening width to allow accurate cutting during installation. This is easily done with a simple hacksaw.
Installation instructions and fixings will be included within the track set.
Do I need fillets (liners) for my wardrobe?
What size is required for the track sets?
Who makes your sliding wardrobe doors?
Do your prices include VAT?
Do you offer a fitting service?
What is the delivery time on Sliding Doors?
How do I measure for sliding wardrobe doors?
Is your glass safety backed?
OUR BEST SELLING SLIDING DOOR KITS
We are always here if you would like to talk to the team. Use live chat or call us on 01698 209888. Take a look at our best selling made to measure sliding wardrobe door kits below with discounted pricing.
White Shaker Sliding Wardrobe Door Kit - 2 Door Mirror - Made To Measure
Graphite Shaker Sliding Wardrobe Door Kit - 4 Door Mirror - Made To Measure
Graphite Shaker Sliding Wardrobe Door Kit - 3 Door Grey Mirror - Made To Measure
White Shaker Sliding Wardrobe Door Kit - 3 Door Mirror - Made To Measure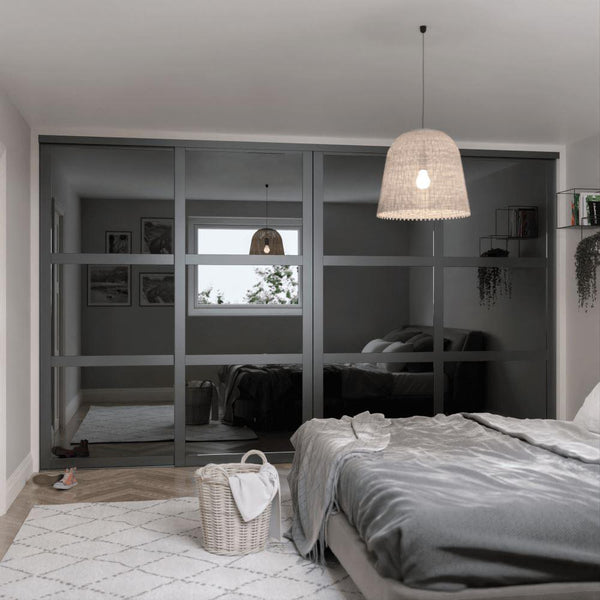 Graphite Shaker Sliding Wardrobe Door Kit - 4 Door Grey Mirror - Made To Measure
Graphite Shaker Sliding Wardrobe Door Kit - 2 Door Grey Mirror - Made To Measure
Graphite Shaker Sliding Wardrobe Door Kit - 3 Door Mirror - Made To Measure
Light Grey Shaker Sliding Wardrobe Door Kit - 3 Door Mirror & Pure White Glass - Made To Measure