What makes our sliding wardrobe doors different?
If you are in the market for new sliding wardrobe doors you will no doubt have seen that there are a lot of options out there. So what makes Bedrooms Plus stand out and why do so many of our amazing customers choose us?
Attention to detail and hands on, British manufacturing. There are many suppliers but not many producers of sliding wardrobe doors in the UK. So many are resellers for other companies and very often this is not a British product. All of the steel used in our sliding wardrobe doors is 100% British and produced in Sheffield. It has been since we started in 1980.
Our methods for creating sliding doors are essentially the same as they have always been and we take great pride in that. There are no huge machines doing the work. It's a very hands-on and time tested method by experts in their craft.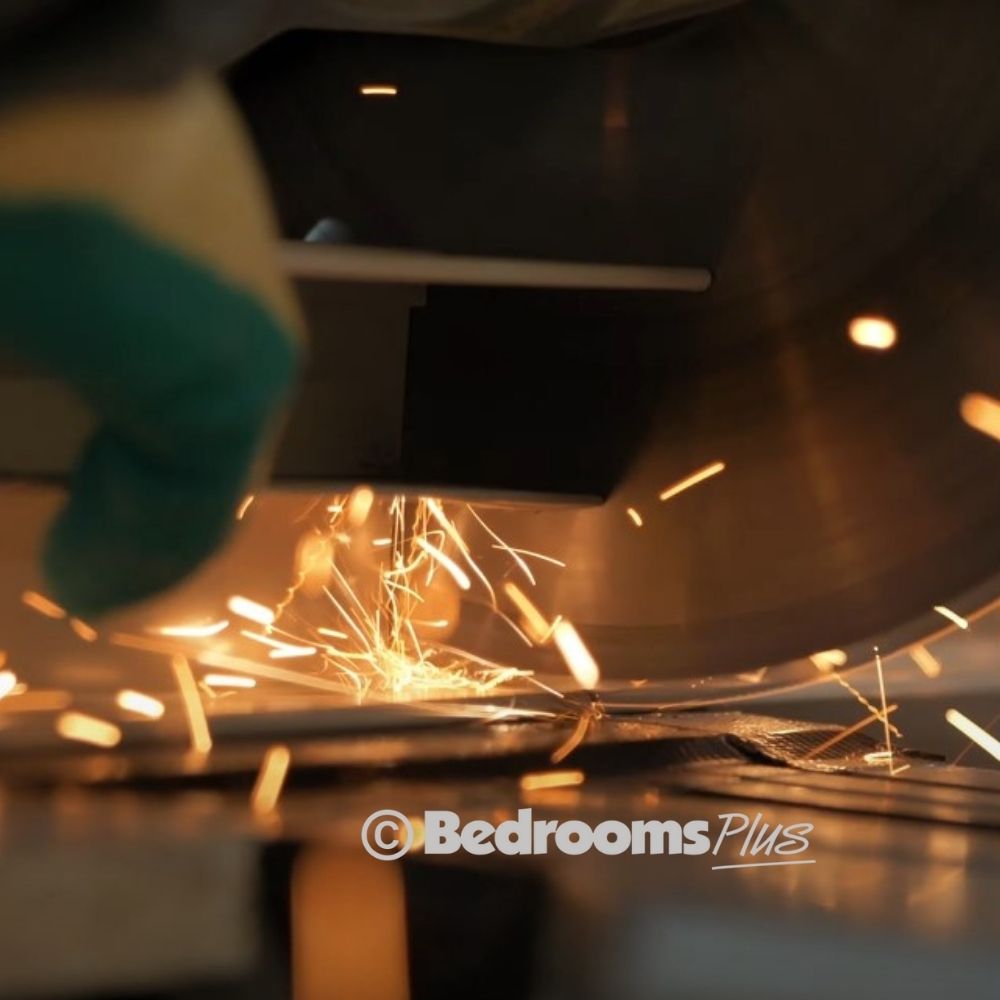 Quality British Material
Since 1980 we have used 100% British steel to produce our sliding wardrobe doors and we have never changed. Sheffield steel is known for being some of the best in the world so it just adds to our beliefs that quality products make the difference.
As much as we have been approached with alternatives, we have stuck to our roots and although some of the beautiful frame designs and colours have changed, the quality has remained at the highest level for over 40 years and counting.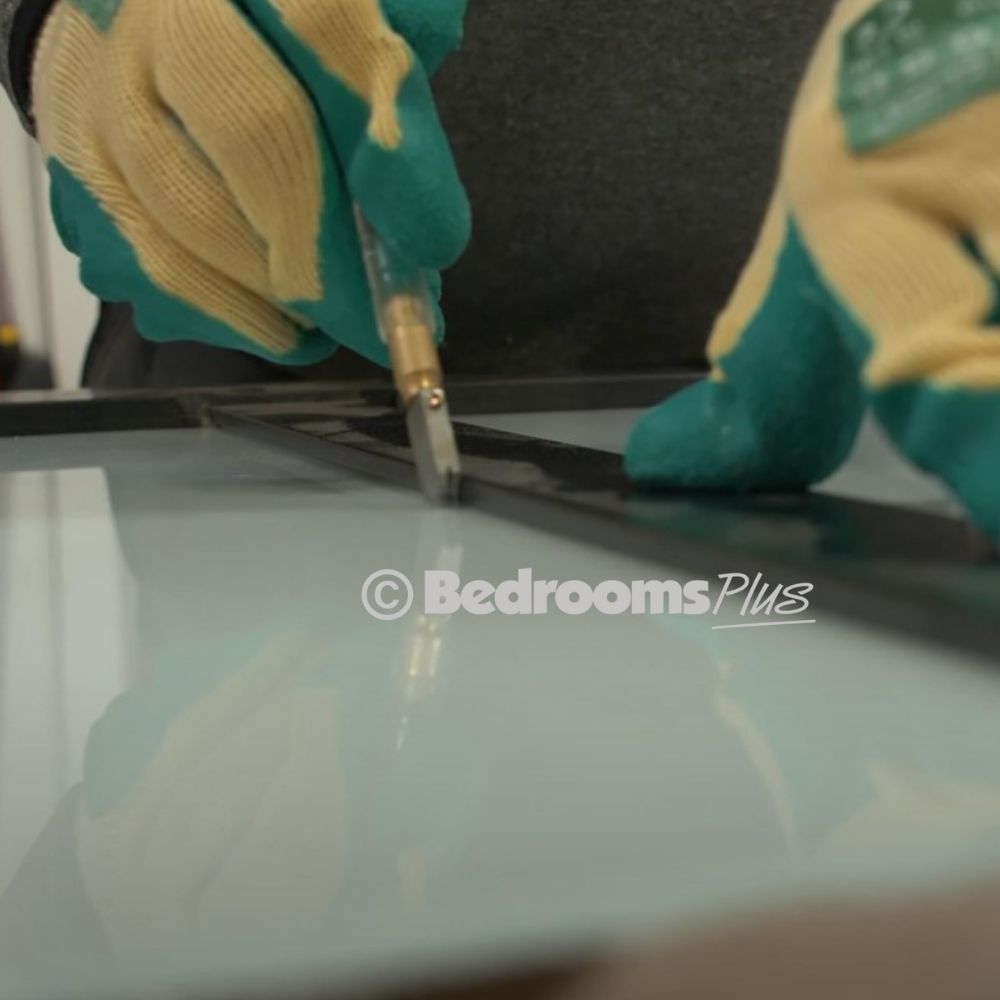 Expert Hands
Our sliding wardrobe doors bring together the finest materials and stunning design to create something very special. We believe in quality, care, and creating unique products that become a statement piece in your bedroom.
Our team are experts in their field and take pride in the product they make. Cutting glass is a skill that takes time to master and since 1980 we have maintained this hands-on approach to manufacturing and remain committed to our purpose-built workshop in Central Scotland from where we supply customers all over the UK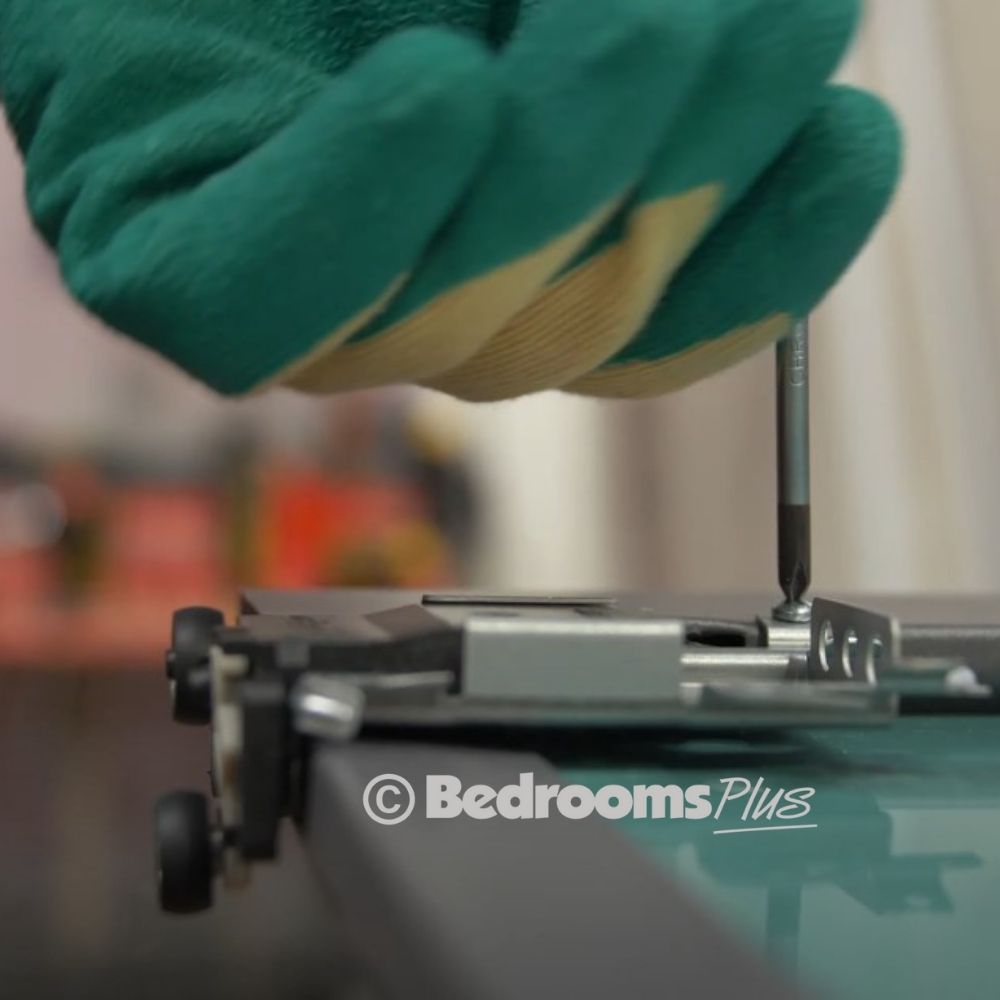 Ultra Quiet Rolling Parts
We are dedicated to only using the highest quality rolling parts for our sliding doors ensuring not only do your doors run quietly but that they do so for a very long time and we guarantee every part installed to our sliding wardrobe doors for 10 years however they tend to last at least double that.
There are many alternative parts out there that some companies use to cut costs and we will never follow this path
We use new rubber-coated oil-sealed wheel systems on all of our sliding doors so you can be sure of an ultra-quiet and smooth-rolling sliding door system that is built to last a lifetime.
The bespoke track set that we supply with all sliding wardrobe doors is also a frictionless smooth running system which makes a huge difference to the feel and the lifespan of your wardrobe.
For this reason, our sliding wardrobe doors are not compatible with sliding doors or tracking from any other retailer including B&Q, Screwfix, Howdens, Ikea or any supplier of sliding doors.
All of our sliding wardrobe doors are hand made in our own factory and delivered using our own delivery partners. From start to finish you can speak to our team about your order and if you need help to install your doors which is very unlikely, our team of technicians will be happy to take your call and have a chat. You can speak to us on 01698 209888.
View our latest top selling pre designed sliding door kits
Designed by our experts to make the decision easy for you. Simply enter your sizes online.
White Shaker Sliding Wardrobe Door Kit - 2 Door Mirror - Made To Measure
Graphite Shaker Sliding Wardrobe Door Kit - 4 Door Mirror - Made To Measure
Graphite Shaker Sliding Wardrobe Door Kit - 3 Door Grey Mirror - Made To Measure
White Shaker Sliding Wardrobe Door Kit - 3 Door Mirror - Made To Measure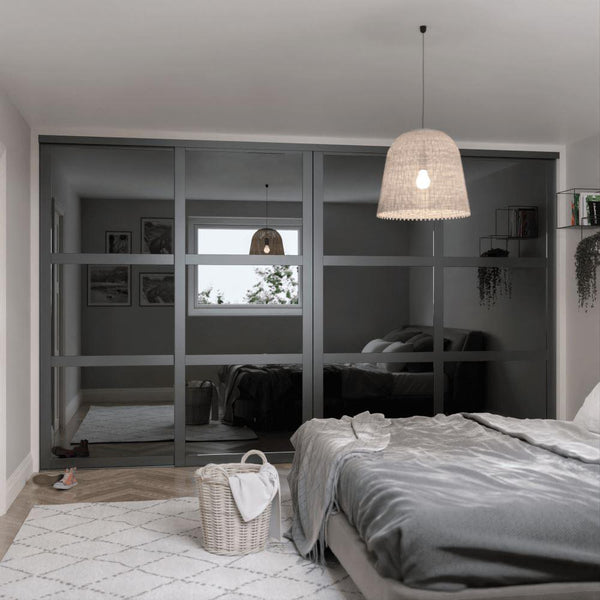 Graphite Shaker Sliding Wardrobe Door Kit - 4 Door Grey Mirror - Made To Measure
Graphite Shaker Sliding Wardrobe Door Kit - 2 Door Grey Mirror - Made To Measure
Graphite Shaker Sliding Wardrobe Door Kit - 3 Door Mirror - Made To Measure
Light Grey Shaker Sliding Wardrobe Door Kit - 3 Door Mirror & Pure White Glass - Made To Measure