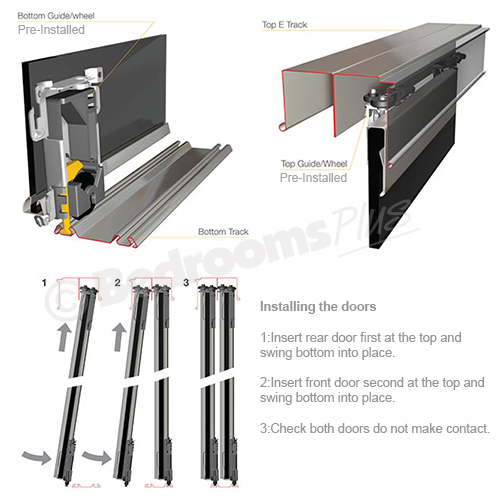 Simple Installation
Installing your new sliding doors is a super simple task due to the way we manufacture and deliver your order.
We do all the hard work for you. From the calculations down to pre-installing all the running gear, all you have to do is install your track and set the doors in place.
In most cases, if you have your space ready this is a 20-minute job and you can step back and take a look at your amazing new made to measure sliding wardrobe doors.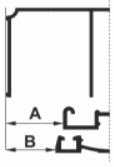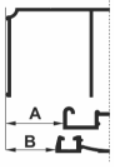 Setting your track set
We have several ranges of sliding wardrobe doors and they all work in very similar ways.
All of our systems work within a total depth of 90mm with the top track being the deepest part of the system.
Once the top track is installed, we recommend then placing your bottom track on the base but do not fix it in place. Put your new sliding wardrobe doors in place and then move the bottom track back or forward until the doors are standing plumb and even which you will check with a level. Once this is the case all the way along the track, you can begin to secure your track using the supplied fixings.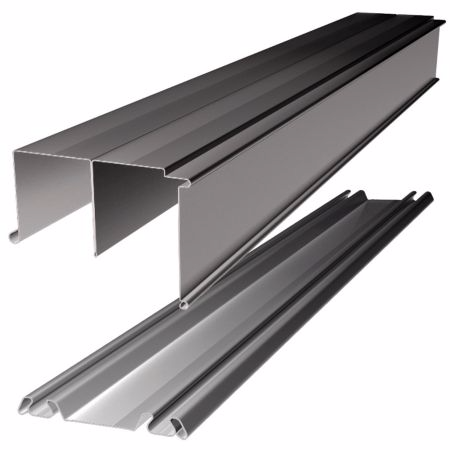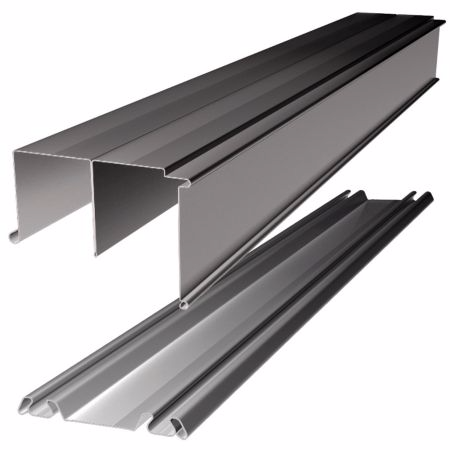 Track Dimensions
The track dimensions for our sliding wardrobe doors vary slightly between ranges. Every track will match the door frame colour and every track has a built-in facia to the top track with conceals the top of the door and its mechanisms.
We supply track sets slightly oversize for accurate on site cutting. This is easily done with a hacksaw. The reason for this is because if for example you provide us with an opening width of 3000mm and we cut the track at exactly this size, it can be a little tight to get the track in and removing a couple of mm from the track by hand is not possible. For this reason, we normally recommend cutting the track around 3mm shorter than your opening width.
Heritage, Classic & Shaker Track Depth:
Top Track: 87mm
Bottom Track: 57mm
Curve Track Depth
Top Track: 76mm
Bottom Track: 53mm
Sliding Wardrobe Doors Installation Video
We hope this page answers most of the questions in regards to installing your new custom size sliding wardrobe doors.
Creating a new sliding wardrobe is the best and most cost-effective way to maximise your space while creating a stunning design you love. Our team are on hand to help you create beautiful doors for your wardrobe. Whether that be glass sliding doors, wooden sliding doors or a combination of both in split panel designs, we can create the look for you.
We have a growing range of pre-designed made to measure sliding wardrobe door kits on our website that are available to order immediately by simply entering your custom sizes online.
We also have a handy page that explains the simple process of measuring for your sliding wardrobe doors.