Your new sliding wardrobe doors need to stand the test of time. They need to be built tough. Here at Bedrooms Plus, we have a select few frames that we use to manufacture our custom sliding wardrobe doors.
Focussing on quality and style while still achieving great value for our customers is key. Below we have some information on the sliding door frames and the panel options that we stock to make our made to measure sliding wardrobe doors.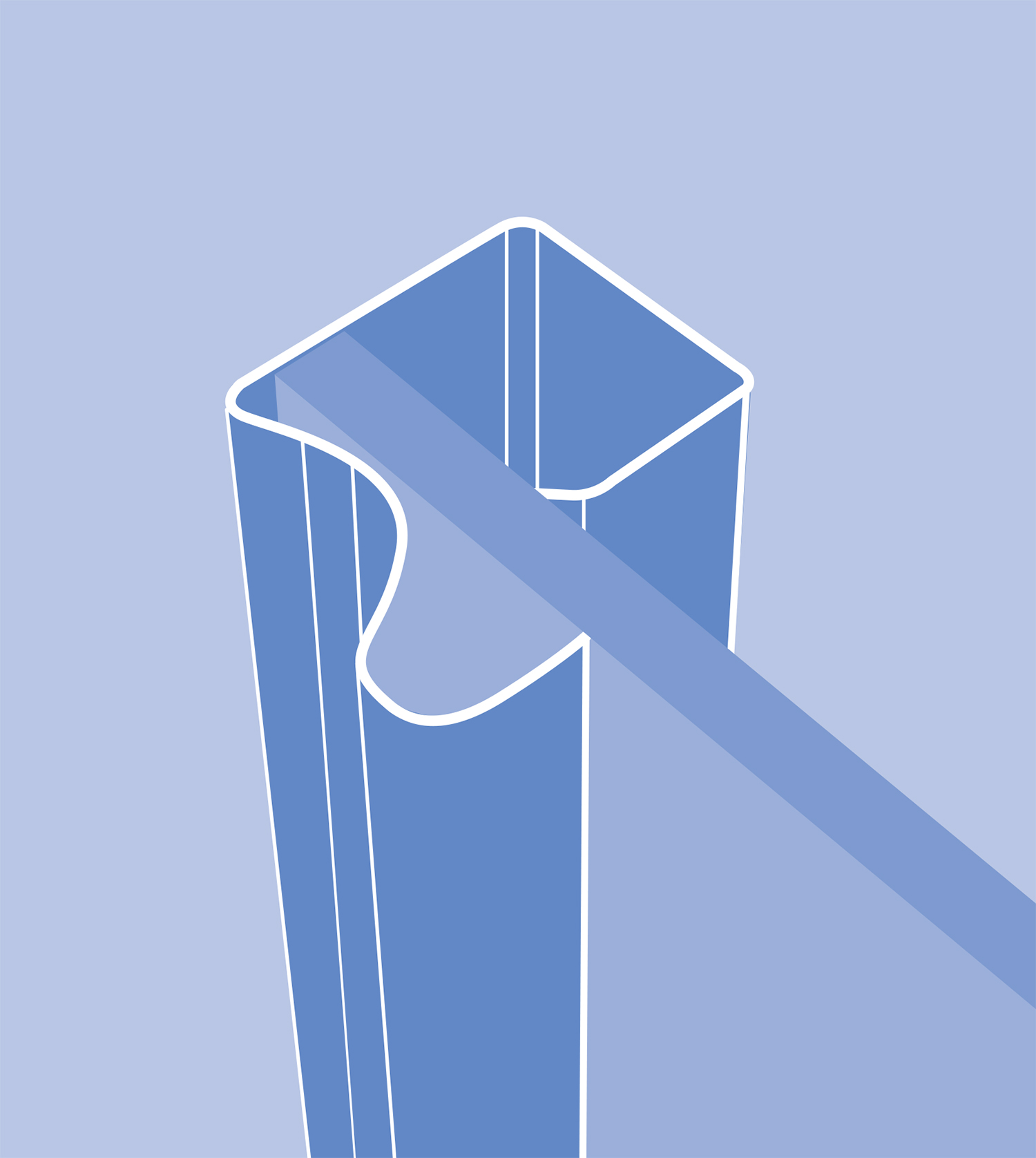 Heritage
When simplicity and style is the look you want, the Heritage sliding wardrobe door frame is the ideal choice. Made in Sheffield keeping the high-quality British Steel reputation going strong, the Heritage range is a hugely popular frame in our range.
The Heritage frame is rolled and formed in the UK to create a low profile but easy to grip frame which acts as the handle to open & close your sliding wardrobe doors.
Like with all of our sliding doors, there are no limits on the designs we can create for you and the same applies when choosing the heritage frame.
Available Colours:
White
Silver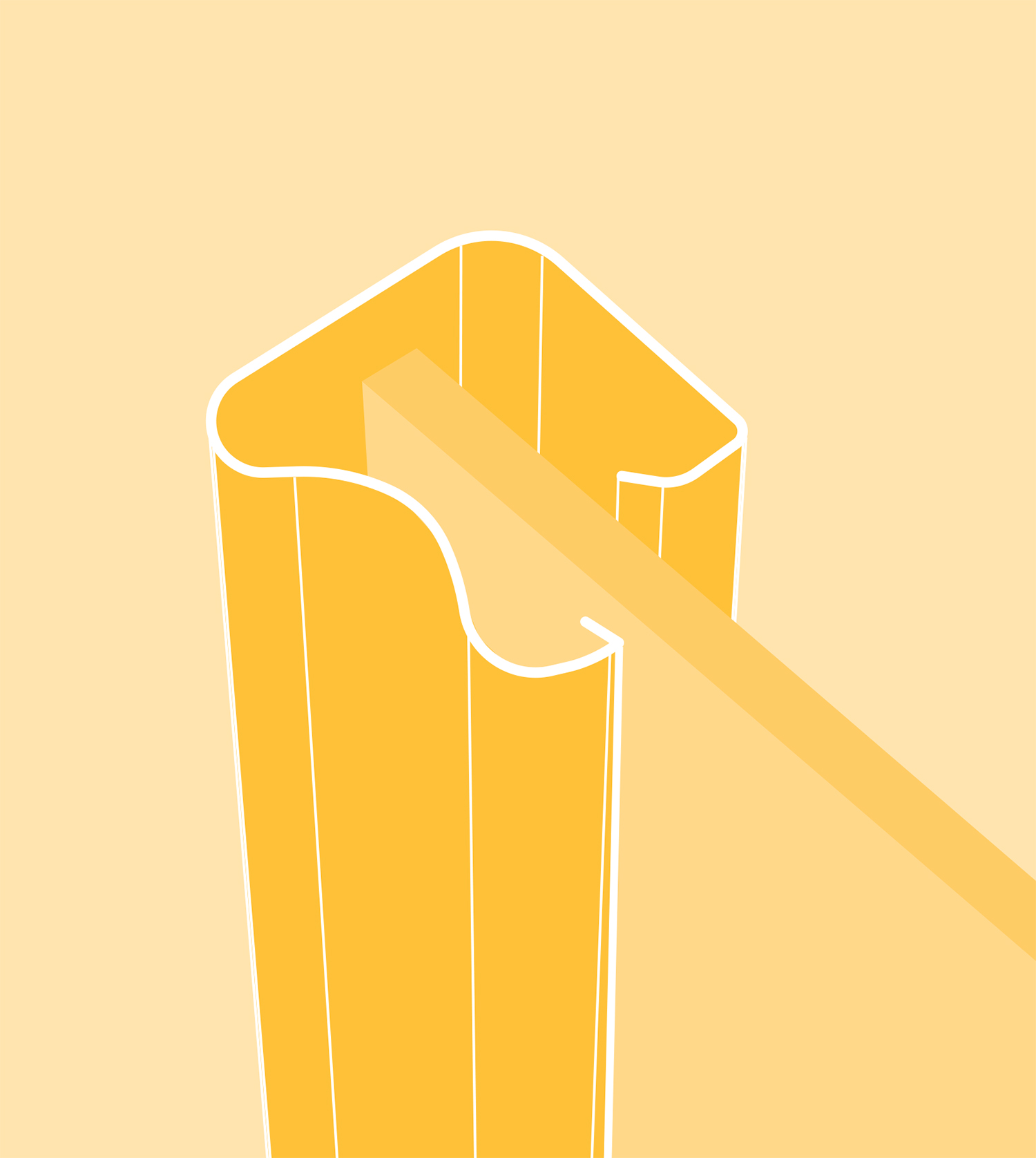 Classic
The original Stanley sliding wardrobe door frame that started in 1980 and is still produced using British Steel to this day.
The classic frame is a slightly larger version of the heritage with an extra 10mm in width and a slightly larger curve to act as the door handle.
Available Colours:
White
Silver
Cashmere
Light Oak
Graphite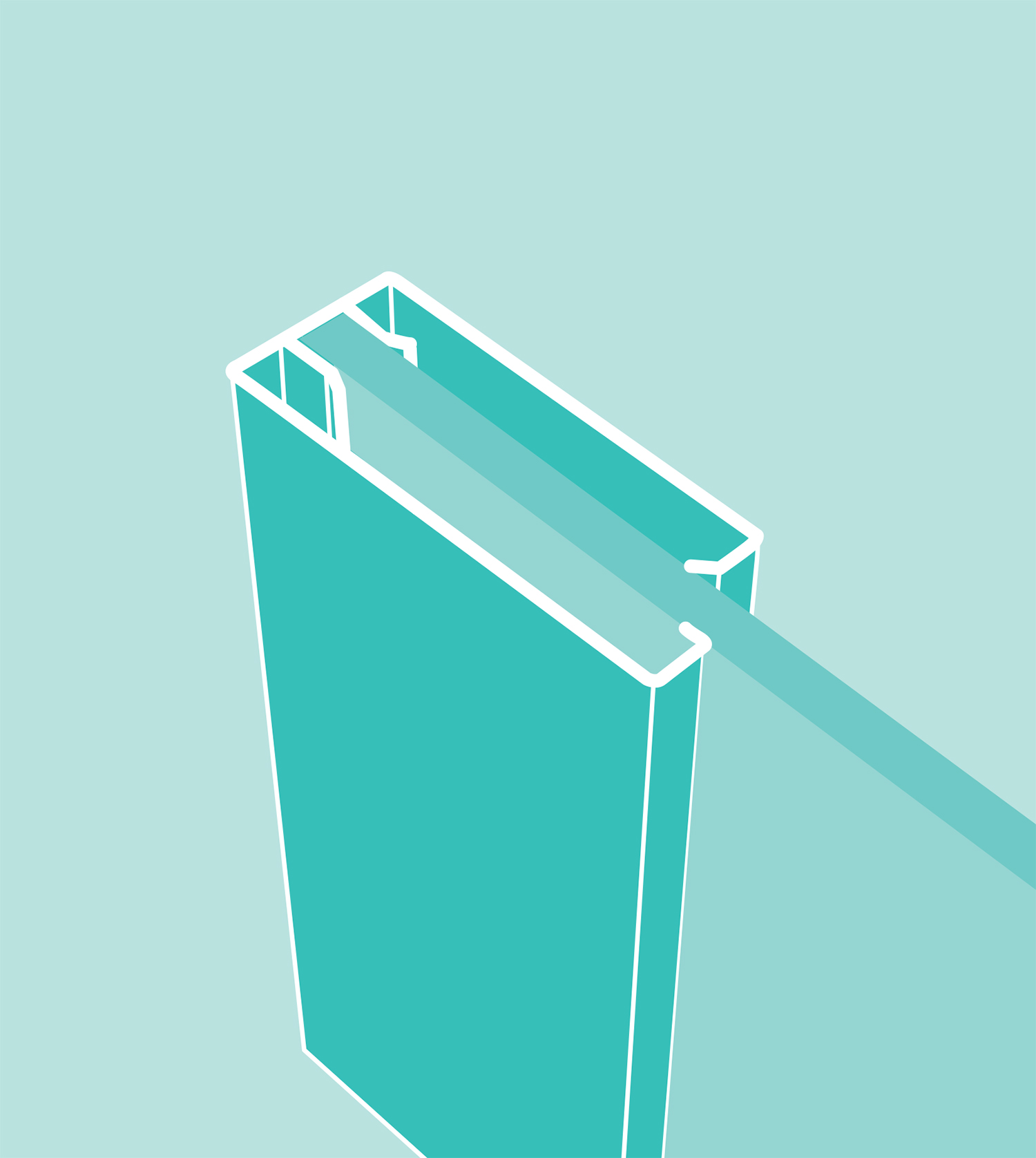 Shaker
The traditional design brought back to life. The relatively new shaker frame has transformed the look of our sliding wardrobe doors over recent years.
More than 80% of all the sliding wardrobe doors we produce are now in the shaker range and you can see why when you see the finished product. Again these frames are made from British Steel and with a 75mm wide frame and various split panel options, the finished sliding doors look incredible.
Available Colours:
White
Cashmere
Light Grey
Light Oak
Graphite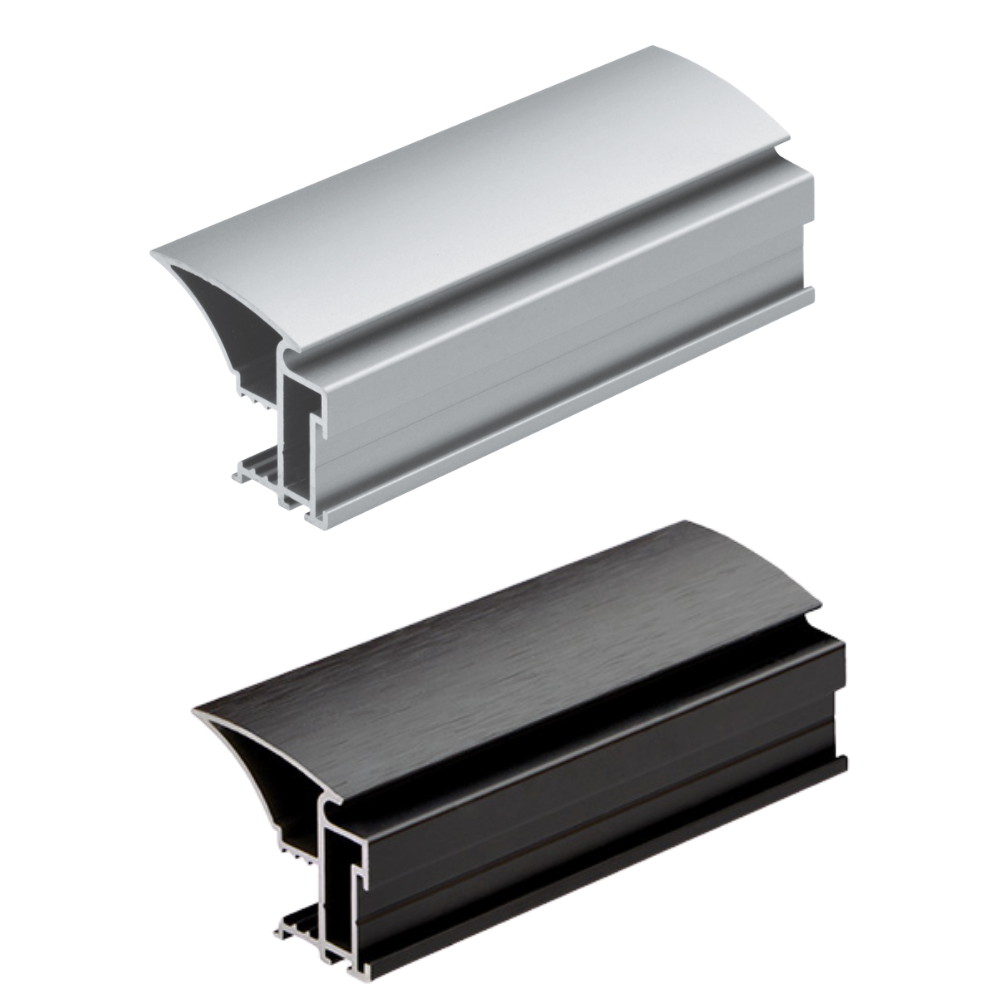 Curve
Our Curve range is our only 100% aluminium sliding wardrobe door range. Created using high grade aluminium, ultra smooth glide wheels and soft closing dust strips, the Curve range is our most advanced sliding door range yet.
The perfectly formed aluminium handles have a curved section on the inside so they are very easy to open yet from the front of the sliding doors you cannot see the hidden handle design.
The curve sliding wardrobe doors also come with a track plate that hides the screws on the floor track.

Available Colours:
Satin Silver
Brushed Black
Our Sliding Wardrobe Door Panels
Below you can see a list of our stock panels that we use to produce our sliding wardrobe doors. All of the glass we use is safety backed and the wood panels we use are all Egger 8mm furniture grade MFC.
Panel choices can be mixed and matched to make a design that suits you. Talk to the team about creating a perfect sliding door design for your bedroom.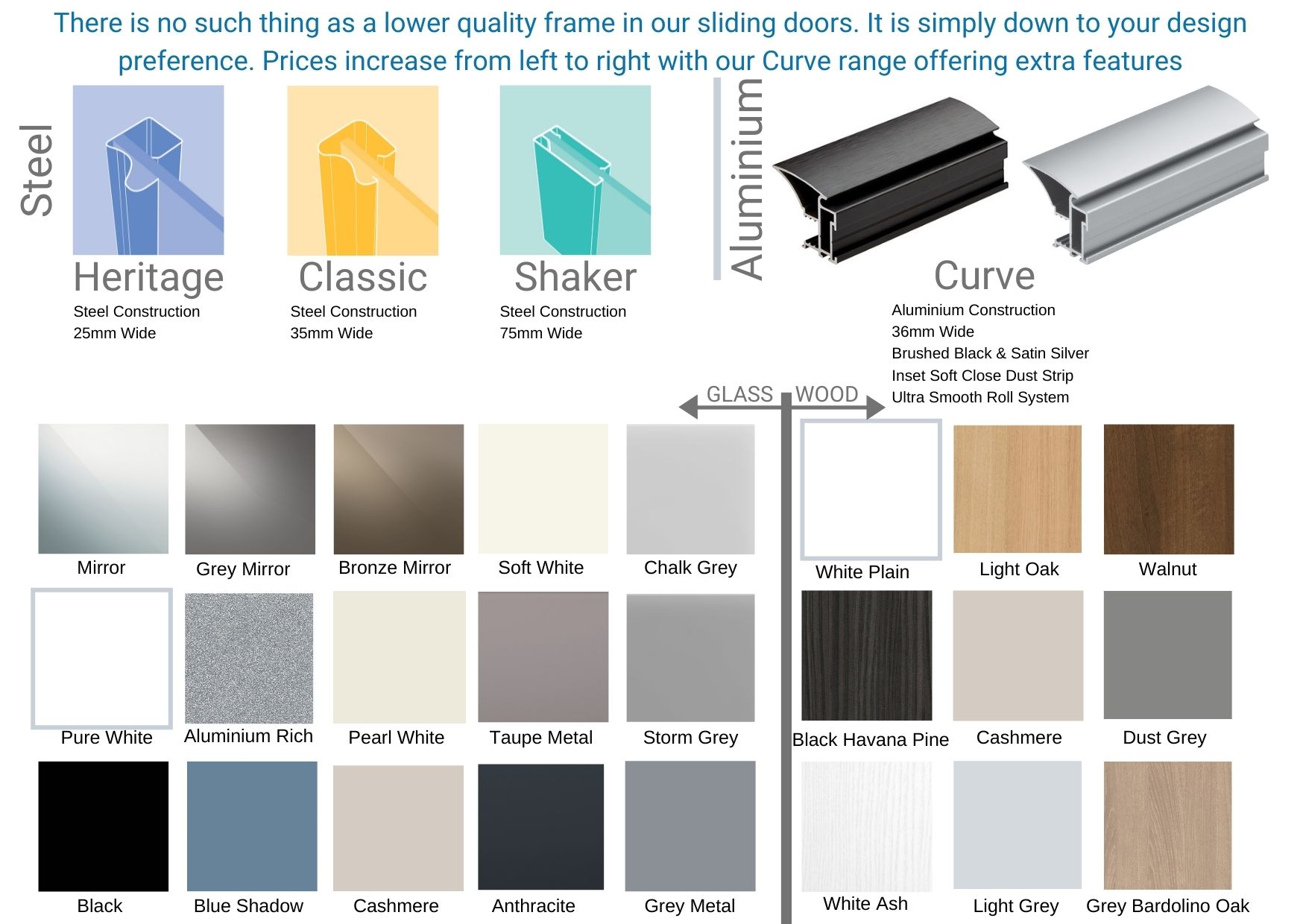 Sliding Wardrobe Door Designs
Below is an indication of some of our base designs for our made to measure sliding wardrobe doors. They cover most of the designs that our customers are looking for.
However, if you are looking for something a little different, don't hesitate to ask and we should be able work with you to create something even more unique.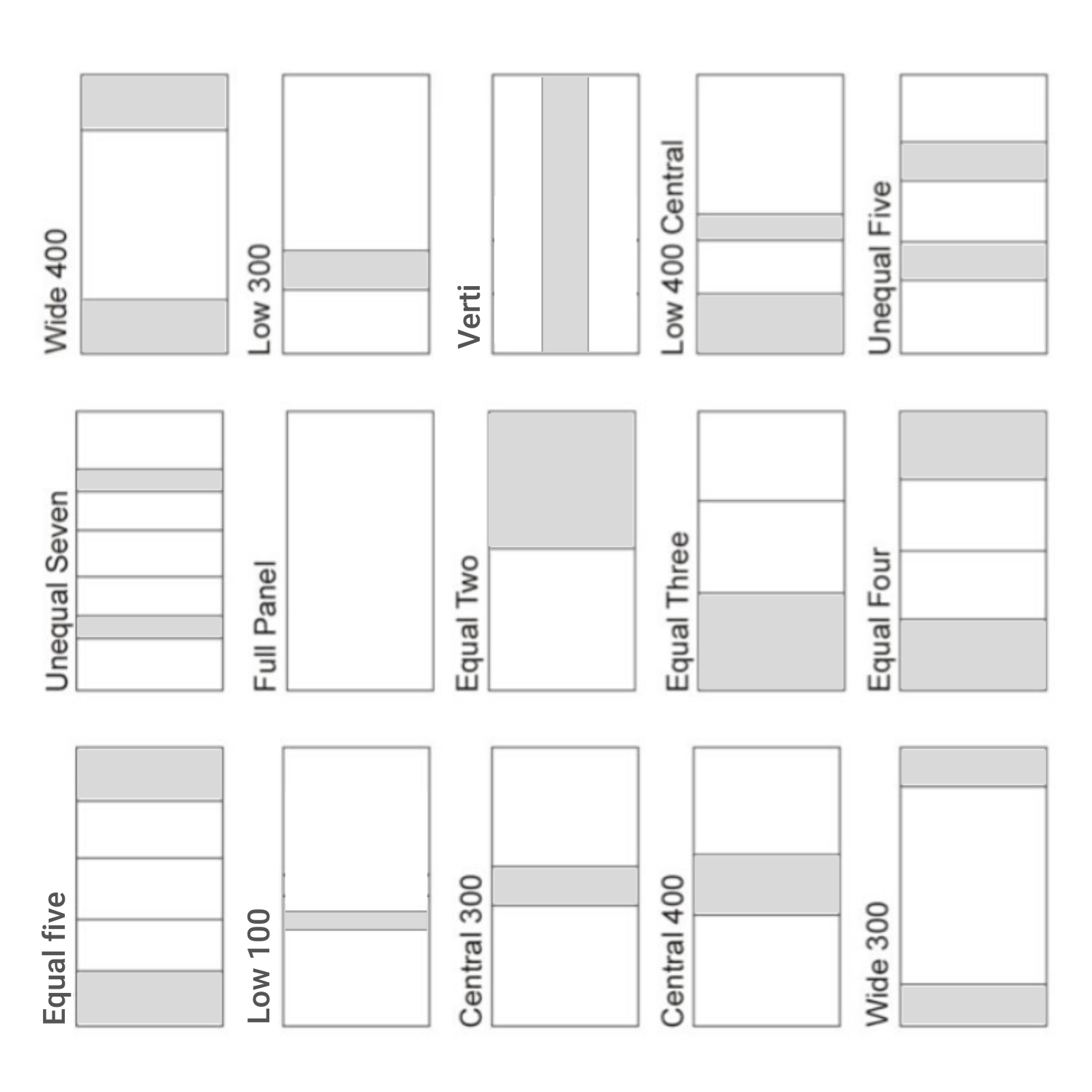 Please find direct links to our suppliers below where you can browse designs and get ideas.